Description
Spring course in Spain (14 to 21 May 2023)
International Education in Vocal Sound Therapy with Githa Ben-David
Read more about the education here on githabendavid.dk
Find all the registration links for the courses here
Before you sign up for one or more week couses, we would kindly ask you to download and fill in an application form (word document) here and send the document to Githa on githabendavid@gmail.com. You will then be contacted.
First you pay the deposit of 1500 DKK for for the teaching at the week course to secure your place, then you pay the remaining amount of 3500 DKK for the teaching two months before course start at the latest. You will pay for the accommodation and food directly to the course venue upon arrival.
This course is truly unique because it takes place in a unique setting that is perfect for vocal sound healing and because there is room for a maximum of 20 participants.
Molino Del Rey can't be described – only experienced. The place is a work of life created by Anthony Arnold (Englishman) who himself has built the place up and there is a wealth of details, small sculptures and mosaics that have existed for more than 20 years. The scenery is unique and the spring water fantastic.
Language
The training will be conducted in English as there are international participants.
Accommodation
The course starts Sunday at 3.00 pm, and the training begins at 4.00 pm. The course ends next Sunday with training at 7.00-8.30 am. Hereafter there is breakfast and check-out at 10.00 am.
Address: Molino del Rey, Jorox, 29567 Alozaina, Málaga, Spain.
Visit the website here: www.molinodelrey.com
Prices: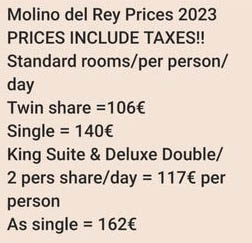 See photos from a previous course at the venue here: http://githabendavid.dk/eng
The nearest airport: Malaga. It is an advantage to drive by car to Molino Del Rey, as it allows you to drive to places, partly if you want to shop, and partly we can drive to see a place where the glaciers of the ice age have stopped – there are wood species from before the ice age. We are happy to help with the coordination so that participants with arrivals/departures at the same times can drive together.
Normally, Molino del Rey is a yoga retreat centre. The place is uniquely built into the mountain by the owner Anthony, who himself is intererest in sound healing. His Russian wife, Lidiya, has decorated both rooms, caves, small hooks, benches, etc. with the finest mosaics. Here is an opportunity to find your own unique, cozy nook with a wide view of the mountains, or to sing in the rock caves where there is dim light. The entire retreat centre is oozing with running spring water that you can drink directly from. The pool is filled with spring water and only with added salt – nothing else. The water, the acoustics and the beauty of this place complement the sound healing in the best possible way. Hiking in the evening is highly recommended. There is a tour on one and a half hour that goes through orange, cherry, avocado and lemon groves and further out into the most beautiful mountain landscape.
Price and payment for the week course
The price for just the teaching at the week course is 5000 DKK. The week course has a deposit of 1500 DKK that you pay first to secure your place and confirm your registration. Then you pay the remaining amount of 3500 DKK two months before course start at the latest.
You will pay for the accommodation and food directly to Molino del Rey in Euro cash when you arrive (the prices are inclusive of 10 percent tax).
Your stay will include half-board – partly organic, very well-prepared vegetarian food (breakfast at 10.00 am and dinner at 6.00 pm). For lunch, leftovers are offered, but officially there is no lunch.
There are few rooms so the participants will sleep in double rooms. There is only one single room, in case anybody snore a lot. All rooms have direct access to their own bathroom.
Prices:
– Twin room, with 2 single beds, per person 693 Euro (9 of these rooms available).
– Deluxe King suite, with a double bed, per person 770 Euro (1 of these rooms available).
– Single room, per person 924 Euro (1 of these rooms available – if you snore a lot).
Please write in your application form which room you wish to stay in.
Refunds by cancellation
A refunding of the education fee is only possible if you can find someone suitable to take over your place – in this case your cancellation will cost 1500 DKK for administrative expenses, which means that you will get a refund of 3500 DKK.
The content of a week course
6 hours daily training:
Day 1: The Note from Heaven.
Day 2: Instruction in The Note from Heaven.
Day 3: Sing yourself free/Regressive Cell-singing.
Day 4: Regressive Cell-singing with regression.
Day 5: Healing/Vocal Sound Scanning.
Day 6: Vocal Sound Scanning.
Day 7: Combination of treatments and summing up.
Example of a one day schedule
A day might look like this:
7.00-8.30 am: Breathing exercises, The Note from Heaven, Hung song.
8.45-9.45 am: Sa Re Gha song and yoga.
9.45 am: Write down your thoughts/feelings.
10.00 am: Breakfast.
11.15-12.00 am: Introduction to the group work of the day.
12.00-12.45 pm: Group work/teaching.
12.45 pm: common evaluation.
1.00 pm: Lunch (vegetarian).
FREE TIME
3.30-5.00 pm: Practise time.
5.00-6.30 pm: Teaching.
6.30 pm: Dinner.
Evening: Hiking, possibly lectures, trip or sauna (if it's cold).
Education structure
The Education in Vocal Sound Therapy is based on blocks of 7-day courses with 20-30 participants per course. Each week course will have the same basic structure adapted to the needs and levels of the participants. You can sign up for one week course at a time, the training will be ongoing so you can pick and choose week courses as it suits you. After a minimum of four week courses you can choose to take an examination.
Homework between the courses: Sing The Note from Heaven, group work, sound therapy with friends and clients.
A date for the examination will be set once there are 15-20 people ready to enter (with six months notice). For the examination/certification you need four week courses, to make a ten minute film with excerpts from a session with you as the therapist, thirty verified cases of Vocal Therapy sessions with you as the therapist, and to make a written examination in answering questions (without books). Githa Ben-David and two co-examiners (Lars Muhl and Lilly Rangstrup) will look at the whole picture and judge whether or not they find you are ready for certification. If you do not pass (but have thirty cases), it will be possible to make a new film/assignment. The examiners will be looking for you to demonstrate: the method, presence, compassion, love, trustworthiness, dedication and precision. When the exam papers are handed out, you will receive the censors' response, after which the examination films are shown, while all candidates are present, so that you can learn from each other.
Introduction to the education
There is a great need for sound healing in our world. Since the research in the field is minimal, Githa Ben-David has initiated a certified education in Vocal Sound Therapy based on her four books, as well as 33 years of practical work within the field. Those who have already graduated, as well as students, contribute through their results to research in the work with The Note from Heaven. Thus Githa recommends clients to the trained sound healers on the basis of the results they have with their treatments. Some voices are particularly good at healing tinnitus, other abdominal problems or fractures. It shows quickly when you get started.
The Note from Heaven is based on devotion to sound, where the singer's 'true' expression unfolds, which means that you make room to be who you are, with the result that the sound of the voice becomes filled with overtones and touches the heart. The phenomenon is described in Githa's first book of the same name. The aim of the education is that the participants release the healing qualities of their voices. There are no two identical voices. Our work is based on a gracious and empathetic method, where the truth as a considered response is paramount.
Compulsory reading
The books are not included in the course fee.
Githa Ben-David's book 'The Note from Heaven'. Other recommended books: 'Dialogues with an Angel' by Gitta Mallasz and 'The Law of Light' by Lars Muhl. Until 'Vocal Soundhealing' will be published in English, it will be sent as a free file to participants who does not speak Danish.