Introduction to the education
International Education in Vocal Sound Healing
Sound and consciousness work together, just like like a touch is felt by the skin where you are touched.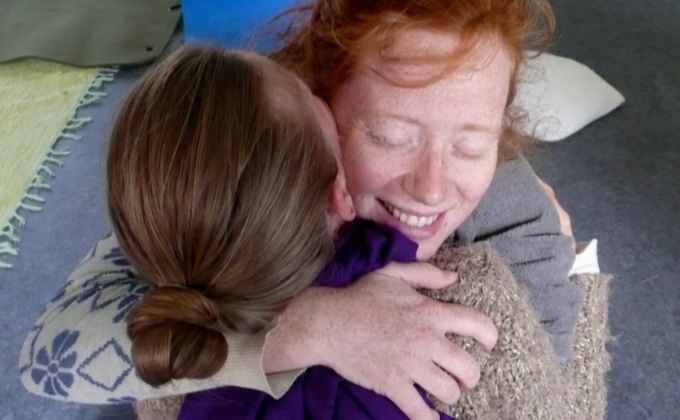 If you focus your voice onto a specific point, the sound will follow your focus and work exactly there.
As sound is energy, you add mechanical energy to the specific area, thereby strengthening the organism to self-heal.
With knowledge of anatomical science it is possible to focus specifically on for instance the cone-shaped pineal gland, and decalcify/stimulate it with Hung Song. When singing Hung Song inner undertones occur which can be used to heal not only yourself but others as well, as the Hunnng sound will sound out like an alarm signal (a very distinct sound, impossible to mistake for  anything else), when you find an area of weakened or stagnated energy.
After the placement of a trauma is discovered,  the next step is to sound scan with vowels and sliding note levels to discover which exact sound frequency the area of the body is calling for. You keep going until the area of the body no longer gives off any sound of trauma (2-3 minutes max). The sound of our voice works without any of the major side effects, but you have to moderate and only apply a maximum of 20 minutes of direct sound treatment to avoid any strong detox-like reactions.

There is a distinct need for sound healing in our world. To ensure the quality of the therapists, doctors, psychologists, nurses, pedagogues, musicians, artists, teachers, scientists…who practise using the methods of Githa Ben-David, or who supplement their work with vocal sound therapy, participants can opt to pass an exam in vocal sound therapy, based on Githa's books "The Note from Heaven", "Sing Your Self Free", "Help" and "Heal the Pineal". Githa Ben-David has 36 years of hands-on working experience within her field, and also the experiences students over the years have contributed and continues to contribute with. The education is based on surrendering  "The Note from Heaven", which you can read more about in Githa Ben-David's book of the same title and or in "The Ultimate Book on Vocal Sound Healing"

The International Education in Vocal Sound Therapy provides the students with the space to release their voice through attentive listening, recognizing who they truly are. The process supports the participants in reclaiming their confidence, dissolves stress, they will receive a response, knowledge and support, and first and foremost experience how a higher force of sound works through them.     

The aim of the education is to liberate the true expression of each and every one, and to bring to light the healing qualities of the voice. No two voices are alike. Every single voice is a special gift, offering its unique qualities. This applies to the tone-deaf as well.
Curriculum of International Education in Vocal Sound Healing
Githa Ben-David reserves the rights to any changes that may occur.
Subtitle
Books, film & music
by Githa Be-David
Some description text for this item